CISAC releases its 2022 Annual Report
Growing digital royalties and stronger laws protecting creators' rights top the list of priorities.
CISAC has today published its 2022 Annual Report, outlining its work supporting the world's largest network of authors societies.
The 2022 Annual Report shows the Confederation's diverse services including lobbying, development of best practices, technology, and the systems to support data exchanges, help identify works and pay royalties quickly and accurately.
The Report outlines CISAC's legislative lobbying actions in multiple countries to promote stronger laws protecting creators and rightsholders. It also focuses on recent solidarity actions taken by the CISAC community through its global initiative Creators for Ukraine, to aid Ukrainian creators and refugees. CISAC societies have contributed EUR 1.4 million to the project so far, which were distributed to individual creators and charities helping victims of the war.
Forewords by CISAC President Björn Ulvaeus, Board Chair Marcelo Castello Branco and Director General Gadi Oron set out CISAC's present priorities and future strategic vision.
Key workstreams outlined in the report include:
extension of the ISWC music identifier and improvements in music data reporting
developing digital income streams including live-streaming and video games
the impact of AI on authors rights
the expanding educational campaign on buyouts Your Music Your Future International
four new country case studies supporting stronger rights for audiovisual screenwriters and directors
continued lobbying for international implementation of the resale right for visual artists
implementation of governance reforms on CISAC memberships and client services offered to Rights Management Entities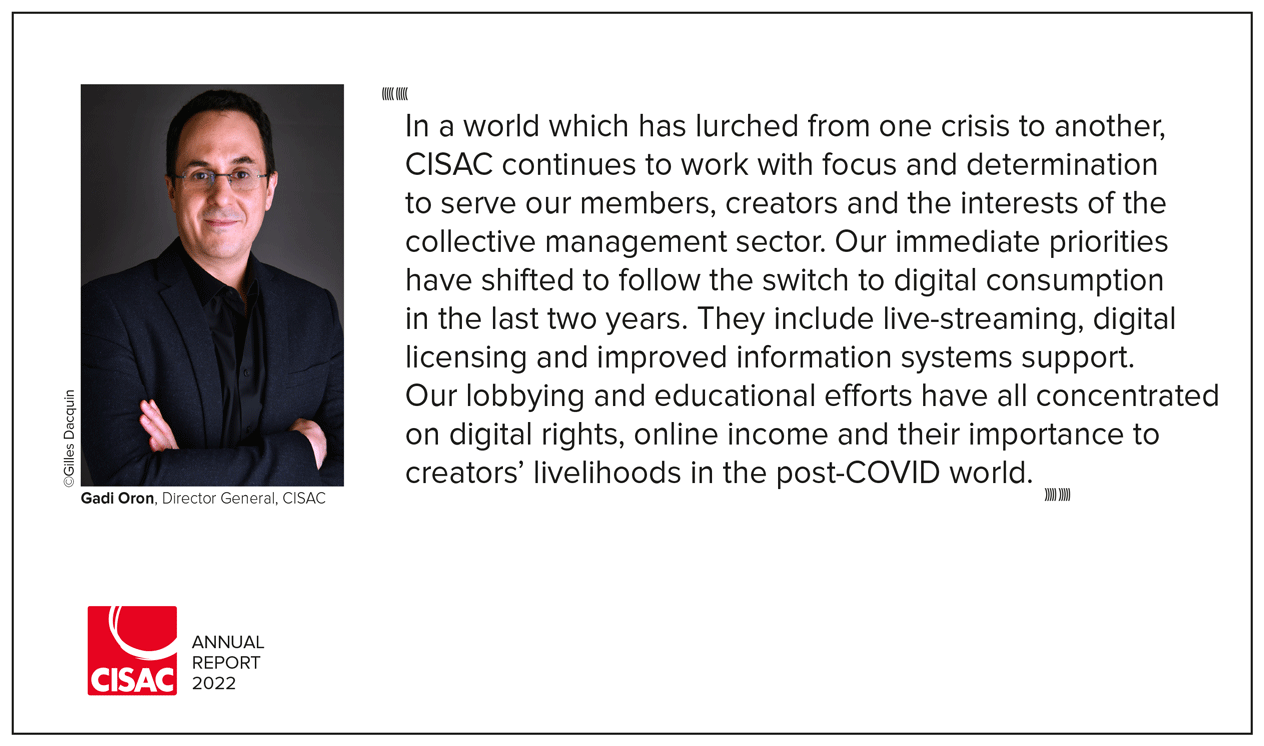 The CISAC 2022 Annual Report is launched for the CISAC General Assembly scheduled to take place on 2 June 2022. The Report is available to download HERE.