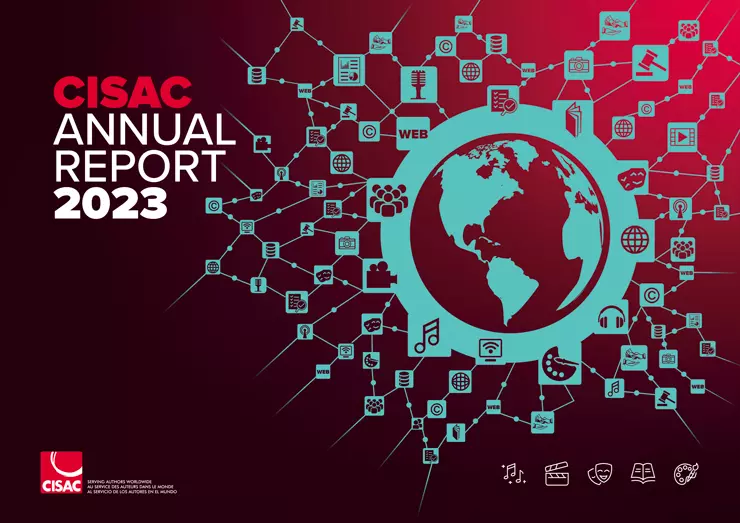 CISAC has today published its 2023 Annual Report, providing a comprehensive overview of its work to support 227 member CMOs across the world.
CISAC's members comprise 227 authors societies which together manage the rights of over 5 million creators from the music, audiovisual, visual arts, drama, and literature repertoires.
"The soundness of societies through successive crises highlights the immense value to CMOs of belonging to a global community", says Marcelo Castello Branco, Chair of the CISAC Board.
In addition to updates on its technology, legal and lobbying services, the Report highlights successful CISAC projects in Greece and Turkey that are helping to turn around previously dysfunctional markets and increase collections for authors.
The Report outlines CISAC's lobbying actions in multiple countries to promote stronger laws protecting creators and rightsholders. It also updates on the solidarity actions taken by the CISAC community through its global initiative "Creators for Ukraine". CISAC societies have contributed EUR 1.4 million to individual creators and charities helping victims of the war.
Forewords by CISAC President Björn Ulvaeus, Board Chair Marcelo Castello Branco and Director General Gadi Oron set out CISAC's present priorities and future strategic vision. These include the rapidly growing impact of AI and CISAC's campaign for more fairness in creators' remuneration in the streaming market.
In his foreword, CISAC General Director Gadi Oron says: "The pandemic may be over, but it is anything but "business as usual" for the CISAC network. The shift to digital is spurring collections growth globally, but at the same time posing unprecedented new challenges to the operations of many societies. In this context, CISAC continues to work relentlessly to help deliver collections growth and provide essential business services to our members".
Workstreams also include events in partnership with sister international bodies to campaign for the unwaivable right for remuneration for audiovisual authors.
The CISAC 2023 Annual Report is launched for the CISAC General Assembly scheduled to take place on 1 June 2023 in Mexico City.
Download the full report here.